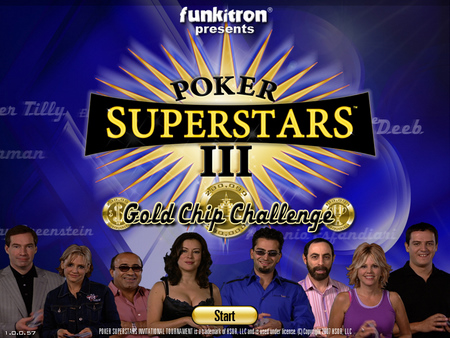 If you are looking to get the feel of the real action then this is the game for you. Poker Superstars Gold Chip Challenge hosts you in a poker game TV show. You sit and play with stars like Barry Greenstein, Jennifer Tilly, Eli Elezra, Jeff Shulman and 12 more professional superstars.
The game has a really cool TV show style music and the winner gets applause. You can also import your photo into the game so you can actually feel that it is you in the game.
Poker Superstars III offers three modes of play:
Single round: you play one round. Everyone starts with $250,000. Winner is the last player left.
Limit play: a cash limit game. Limit is $1000/$2000 Blinds is $500/$1000. You can cash out when you have had enough.
Season play: you play the entire tournament season.
Poker Superstars III also features a special challenge mode.
So if you are looking to get entertained playing poker, go for it. However, if you are looking for a real deal Texas Holdem game, you might get distracted with all the fuss.
System Requirements:
Operating System: Windows 98, ME, 2000, XP
CPU: 500 MHz
RAM: 256 MB
Hard Drive:39MB
Screenshots: